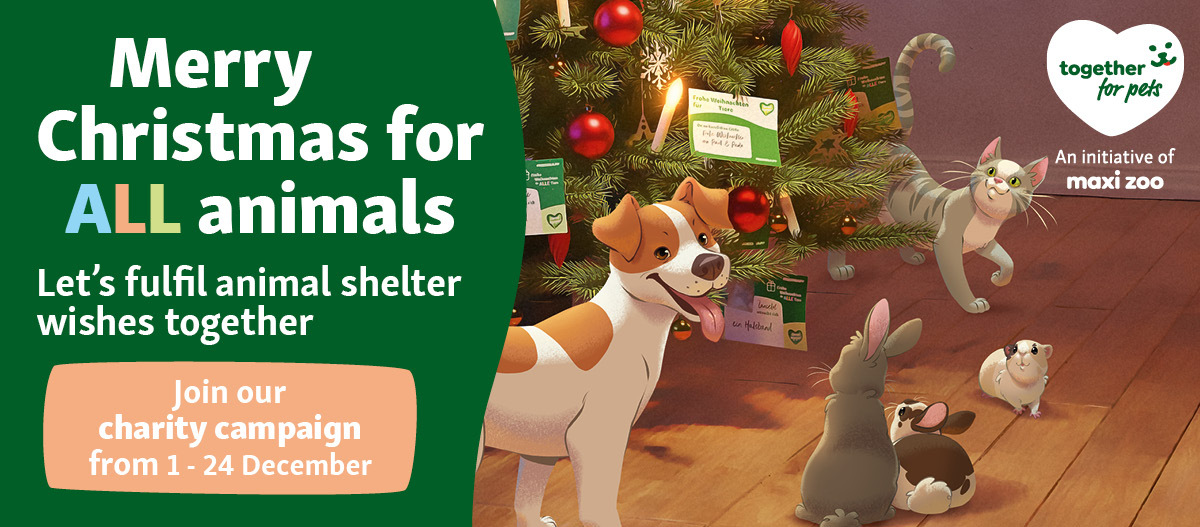 Merry Christmas to all animals
Join us and make Christmas extra special for animals in need. With our Shelter Wishes campaign we would like to support local animal charities throughout Ireland for Christmas and fulfil their wishes with the help of our customers.
Together for pets in needs
This year, many animal welfare organisations are facing challenges, due to rising costs and, unfortunately, a significantly higher number of abandoned animals.
Help us to support these animals by donating essential items like food, hygiene items, toys and beds.
Show your animal love and fulfil animal wishes
From the first of December you can donate to your local stores chosen animal charity by granting a wish under our giving Christmas tree.
This is how it works
Choose a wish: From 1 December to 24 December, you can choose an animal charity wish from the Christmas tree at your local Maxi Zoo store.
Choose a gift in the store to donate: Search for a gift that matches the wish and pay for the item at the checkout.
Place the gift under the tree: Place your donation under the Christmas tree together with the greeting card.
Animals in need will receive your donation: The local animal charity will visit the store to collect donations, and give an animal in need a Christmas to remember.