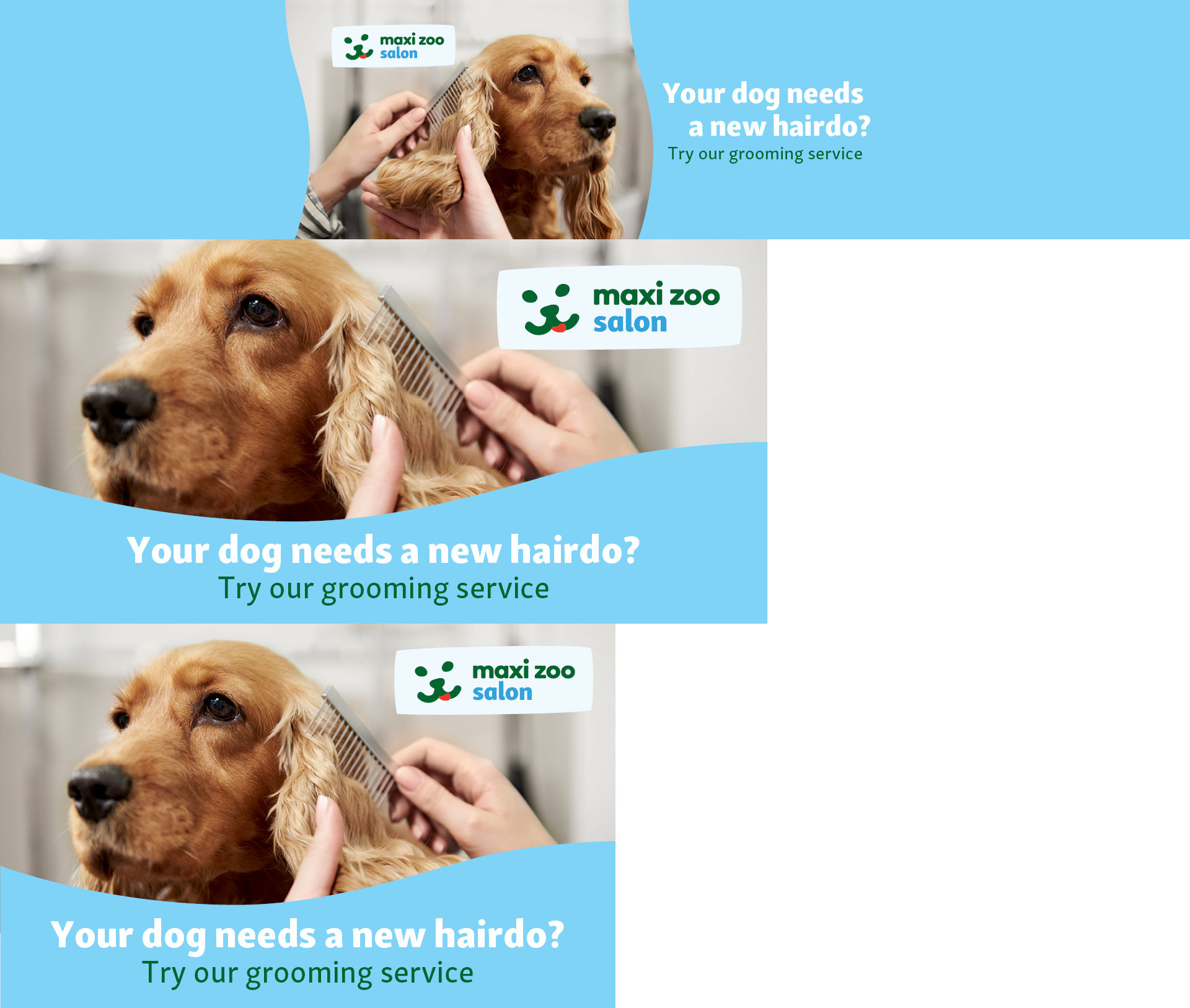 Well-groomed fur not only looks good, it also serves an important purpose: it is your pets' natural protection against the cold, wind and damp. Professional grooming is important for the fur to perform that function properly. In our Maxi Zoo salons you can treat your pet to an all-round feel-good package from our expert groomers. High-quality care products and professional service spoil your four-legged friend from head to paw.
Why is fur care important?
Professional care promotes your pet's health and wellbeing – and besides, it makes its fur look nice and neat. The diversity of dog coat structures makes customised and professional care essential. When you brush your dog, you're not only helping keep their coat healthy and glossy, you're also helping remove dead skin and dirt as well as dead fur and dandruff.
Salon locations
Our Maxi Zoo salons are located in selected Maxi Zoo stores. Make sure to check this page for new salon stores openings near you. We are constantly celebrating new salon openings – maybe in your city too.
Maxi Zoo Ashbourne
Unit 5, Ashbourne Retail Park, Ballybin Rd, Ashbourne Industrial Estate
A84 N209 Ashbourne, Ireland
+353 (1) 5847750
Maxi Zoo Blackpool
Unit C2, Blackpool Retail Park
T23 DPY1 Cork, Ireland
+353 (21) 2122420
Maxi Zoo Coolock
Unit 6 Coolock Retail Park, Malahide Road, Coolock
D17 T638 Dublin, Ireland
+353 (1) 5746730
Maxi Zoo Dundalk
Unit 5 Dundalk Retail Park, Dundalk
A91 KN9F Co. Louth, Ireland
+353 (42) 9422330
Maxi Zoo Tralee
Unit 12, Manor West Retail Park, Tralee
V92 X5PX Co. Kerry, Ireland
+353 (0) 66 4025150
Maxi Zoo Sligo
Unit 2, Sligo Retail Park
F91 Y030 Sligo, Ireland
+353 (0) 71 9344050
Maxi Zoo Drogheda
Unit 1, M1 Retail Park, Mell, Drogheda
A92 AHW9 Co. Louth, Ireland
+353 (41) 4141270
Maxi Zoo Belgard
Unit 4, Belgard Retail Park, Tallaght
D24 HY47 Dublin, Ireland
+353 (1) 5743420
Maxi Zoo Mahon
Unit 7, Mahon Retail Park
T12 YW08 Co. Cork, Ireland
+353 (21) 2122430
Maxi Zoo Finglas
Unit 3, Clearwater Retail Park, Finglas
D11 NW8P Dublin, Ireland
+353 (0) 1 8347754
Your appointment at the Maxi Zoo Salon
How can I book my appointment?
How do I cancel my appointment?
Can I stay with my pet during treatment?
What payment options do I have?
Services and prices
What styling and care packages are offered?
How long will the treatment take?
What pets are welcome in the salon?
How often should I take my pet to the pet groomer?
When and why should I get my puppy used to grooming in a salon